Posted: November 20, 2023
As we approach the season of gratitude and reflection, surrounded by family and friends, we're reminded of the incredible support we've received for over 125 years. Allendale is fortunate to have dedicated partners—individuals and organizations united in purpose—making our transformative work their personal mission.
Our commitment to the "greater good" has been the cornerstone of Allendale's century-long history. We continuously develop and implement innovative therapeutic programs and services to meet the evolving needs of the community, empowering youth and families to rebuild their lives and envision a brighter future.
Jason Keeler, President & CEO of Allendale, emphasizes, "Together, we can continue to make a difference in the lives of Illinois' most vulnerable youth and families."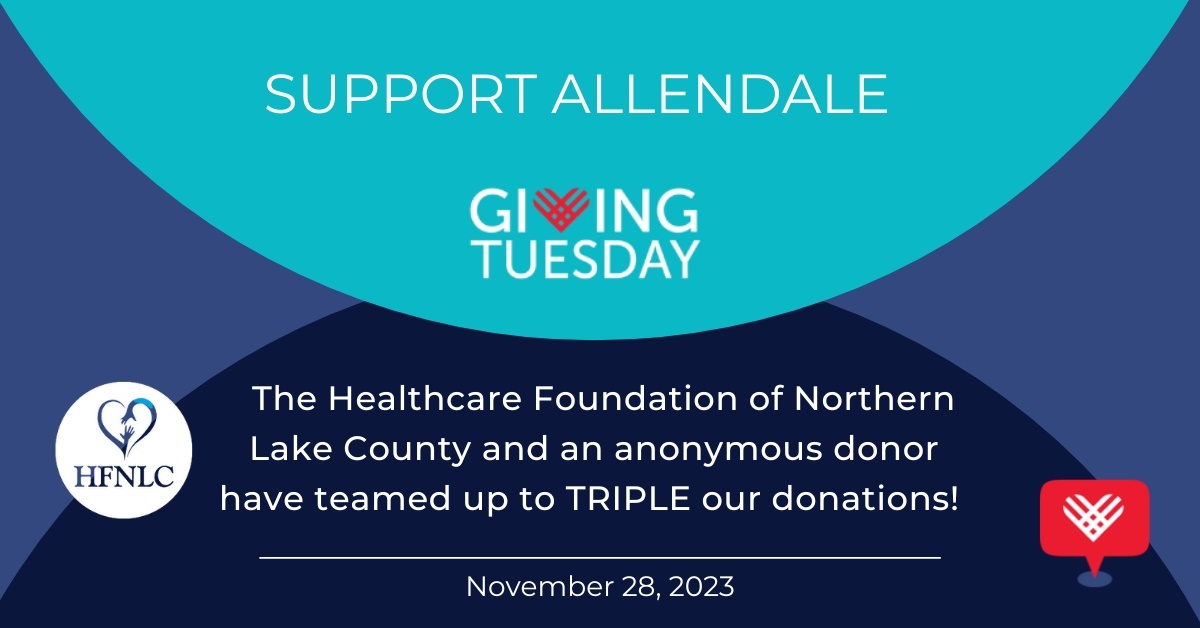 On GivingTuesday, November 28, 2023, people worldwide unite for a day of generosity, using their individual power to support charities in their communities. This year, we are especially grateful for the partnership of two exceptionally generous donors—the Healthcare Foundation of Northern Lake County and an anonymous supporter—both tripling your donation on GivingTuesday! This generous support extends throughout the year, benefiting countless youth and families.
Yes, you read it correctly! The first $10,000 raised and pledged on Giving Tuesday will be TRIPLED! For instance, a $100 gift on this special day translates to $300 for Allendale! You can contribute to this worthy cause through various channels:
Thank you for giving young individuals and families the impactful opportunity to reshape and redefine the course of their lives – transcending personal challenges and discovering new possibilities.
Our tradition of care and service. 
For more than 125 years, Allendale, a private, not-for-profit organization, has guided youth facing serious emotional, mental, and behavioral health challenges and their families towards resiliency.
At Allendale, our goal is to provide every opportunity for healing and growth through diverse programs and services, offering a continuum of care, including 24/7 therapeutic residential treatment, therapeutic day school programs, outpatient counseling services, foster care, emergency shelter services and community support services. Allendale is a place where kids and families can restore their lives and envision a better future.