Allendale is dedicated to cultivating, preparing and developing a diverse and engaged workforce committed to excellence and innovation. In fact, it's been a part of who we are and our mission since our inception in 1897.
And we remain just as committed to excelling today as we were over 125 years ago. One of Allendale's strategic goals is to provide both formal and informal professional growth through training and experiential learning opportunities to increase proficiency, competency development and promotional aspirations. In that vein, we are investing in and embarking on a Dare to Lead™ training course with our executive and operational leadership teams that will continue through the next 6 months consisting of in-person and virtual trainings, coaching and hands-on application.
"We embarked upon this extensive leadership development opportunity to strengthen and enhance ourselves and our staff working directly with youth and families impacted by trauma. We understood to better meet the unique challenges we are facing today, we needed to go beyond conventional training and invest in something that would be more fundamental – foundational – embracing our agency mission, core values, guiding principles and trauma-informed concepts and practices," says Jason Keeler, CEO, Allendale Association.
The Dare to Lead™ curriculum expands on Dr. Brené Brown's concepts that daring leadership is a collection of four skill sets that are 100% teachable, observable, and measurable. The foundational skill set of courage-building is "Rumbling with Vulnerability." The curriculum teaches that once these rumbling skills are built, you can move on to the other three skill sets: Living into Our Values, Braving Trust, and Learning to Rise.
The Dare to Lead™ program defines a leader as "anyone who takes responsibility for finding the potential in people and processes and has the courage to develop that potential". Allendale leadership is proud to step up to the challenge and, with the training of Certified Dare to Lead™ Facilitator, Dr. Allison Jackson-Dyer, we look forward to developing courage-building skills and learning how to move towards daring leadership in our daily operations.
Dr. Jackson-Dyer is a certified professional coach who has provided leadership development services for over 25 years. Through her work as a Certified Dare to Lead™ Facilitator, Dr. Jackson-Dyer is committed to co-creating even more opportunities with organizations and leaders invested in increasing empathy and self-compassion in their workplace culture which translates into greater well-being and connectedness within society as a whole.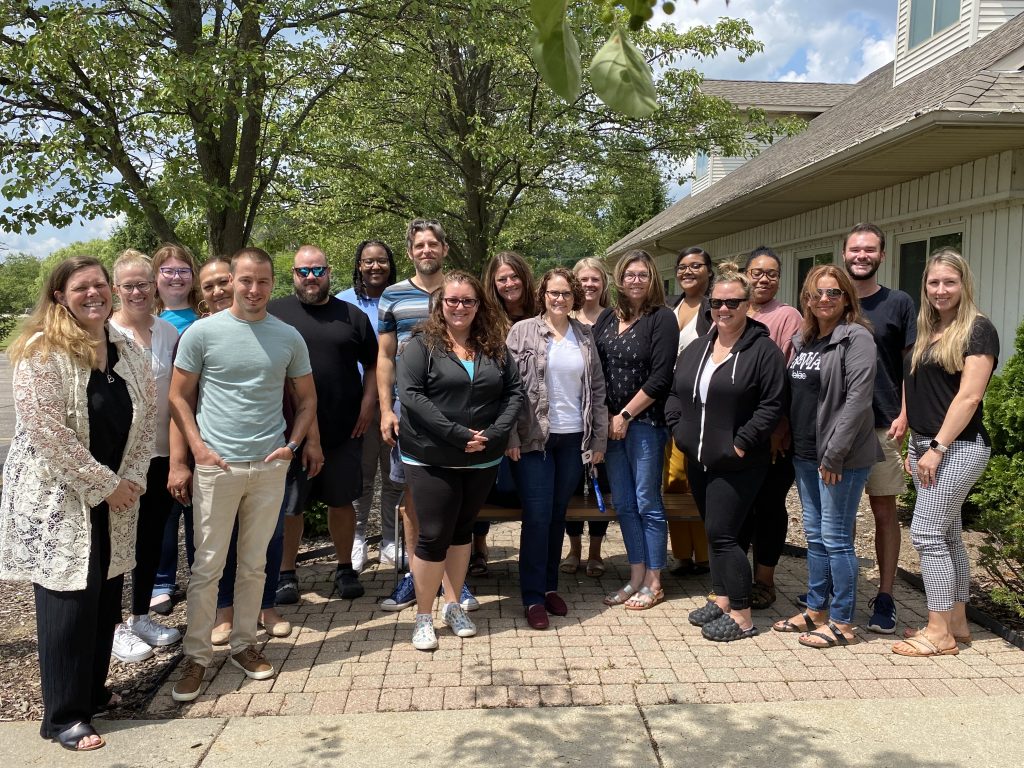 Dr. Allison Jackson-Dyer (far left) with Allendale's multi-faceted team of dedicated and credentialed leadership team, united by their commitment and passion for continuous learning and improvement.
One of the things that sets Allendale apart is our commitment to training and professional development. Are you ready for a career that allows you to learn, grow and gain invaluable experience? If you want to make a positive impact in the lives of youth and families, come join our dynamic team! Check out our open positions and apply today!
A tradition of care and service.
For 125 years, Allendale, a private, not-for-profit organization, has led youth with serious emotional, mental, and behavioral health challenges and their families on a journey towards resiliency.
At Allendale, our aim is to offer every chance for healing and growth – through myriad programs and services and a continuum of care including 24/7 therapeutic residential treatment, therapeutic day school programs, outpatient counseling services, foster care and community support services. Allendale is a place where kids and families have the opportunity to restore their lives and discover a better future.