Posted: September 6, 2022
Written by: Joanne Levine, Lekas & Levine PR
This year, Allendale Association—a Lake Villa not-for-profit that serves kids and families in crisis—celebrates its 125th anniversary.
Over the decades, thousands of area children and teens have found help and healing on Allendale's sprawling campus and across their other locations in Lake and McHenry counties. And while its offerings are continuously evolving to meet changing needs, one thing never changes: Allendale's commitment to providing kids with hope and healing—and the path to a brighter future.
Allendale: Then and Now
Founded in 1897 by Edward "Cap" Bradley, Allendale was originally a refuge for homeless boys.
With just $25 in his pocket, Bradley brought six homeless boys from the streets of Chicago to camp along the banks of Cedar Lake.  He raised the funds to lease and purchase 40 acres of the land and began housing the boys in a single cottage, adding more cottages—and children—every year.
Today, Allendale—which now sits on 120 acres and has additional locations in Gurnee, Waukegan, North Chicago and Woodstock provides an array of behavioral health programs and services, offering youth and their families possibilities to realign and alter the direction of their lives, to rise above their personal challenges.
"We provide treatment and support to children and families struggling with very complex challenges and traumatic circumstances that few feel equipped to work with," says Jason Keeler, Allendale's President/CEO.
"We embrace the notion: if not us…then who?"
Many of these kids, who range in age from 7 to 19, have suffered abuse, neglect and trauma. Last year, the not-for-profit served over 650 youth and families through:
A therapeutic residential treatment program including community group homes and a specialized autism program.
A therapeutic day school for residents and area students with special emotional and behavioral needs
Outpatient counseling services for kids and families, both through the Bradley Counseling Center and a new in-home program, Community Support Services
A community foster care program that pairs kids with caring families
As the needs of families and communities continue to change, Allendale seeks out new ways to expand their services in response to these evolving demands.
Four years ago, it developed a targeted program serving children on the autism spectrum and more recently, began expanding its capacity to provide in-home counseling and intensive case management services to families in crisis. Now, during its 125th year, Allendale will be returning to its original roots by establishing a program that will offer support to youth and young adults experiencing homelessness.
What Makes Allendale Special
At Allendale, every child's personalized treatment plan is managed by a team of experts—psychiatrists, medical professionals, educators, therapists, case managers and mental health specialists—who closely oversee their care and progress.
In addition to providing housing, therapy and schooling, Allendale is one of few programs to offer career and technical training. Students can learn horticulture (the campus has a greenhouse and garden), embroidery/silk screening, cooking, auto shop, wood shop and more.
Student and clients are afforded opportunities to explore and obtain part-time jobs through one of Allendale's on-site programs as well as find employment with local community businesses that partner with Allendale. The goal: to prepare kids for life and self-sufficiency after they graduate or complete their treatment.
In addition, Allendale's natural setting offers unique opportunities for recreation and healing. The main campus is located on Cedar Lake, where kids learn to fish, swim and kayak—not to mention participate in an annual cardboard boat regatta.
"Having fun is very much part of our treatment plan," says Keeler. "A big part of what we do is give kids a chance to be kids."
Part of the Community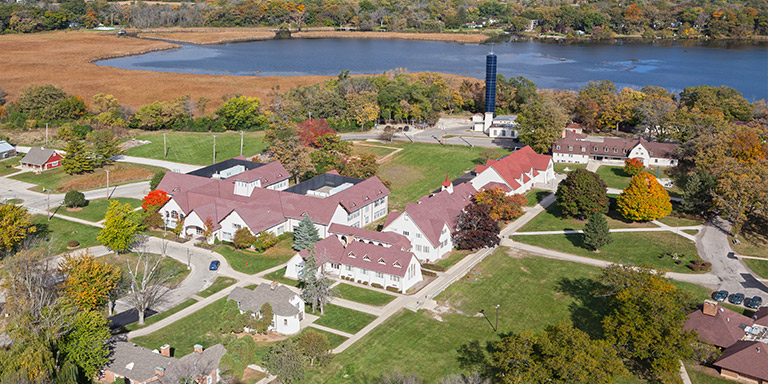 They say it takes a village to help raise a child, and that's certainly true here. Allendale is dependent on—and grateful for—the support of its neighbors, including the residents and groups that volunteer, foster, interact with its kids and support its programs financially.
On October 1, local residents are invited to join in Allendale's anniversary celebration at Autumn at Allendale, a day-long event that will include carnival-style games, food and beverages and "history hayrides"—a first-of-its-kind tour of the campus.
Visitors will gain appreciation into the remarkable work that Allendale's staff quietly performs every day—and the incredible courage of kids who, despite incredibly painful pasts, are striving to claim a brighter future.
For more information, see allendale4kids.org.