Posted: November 23, 2022
Most of us look forward to the holidays, gathering together with family and loved ones, eating a bountiful meal, watching a football game, playing a board game, or just simply being together…coming HOME. And yet, so many youth in our very own community don't have a place to call "home." Hundreds of kids right here in Lake County are currently waiting for a foster home.
At Allendale, we know how important it is for youth to feel safe and supported. Our Specialized Foster Care program works alongside foster families who provide a nurturing home environment where youth feel welcomed and cared for so they can grow and thrive, and they can achieve permanency through returning home to their natural families, adoption or independence.
Allendale foster families support kids in many ways: through tending to their well-being and educational needs, supporting them in fulfilling goals they themselves identify and providing opportunities for these youth to develop trusting, healthy, meaningful, and lasting relationships.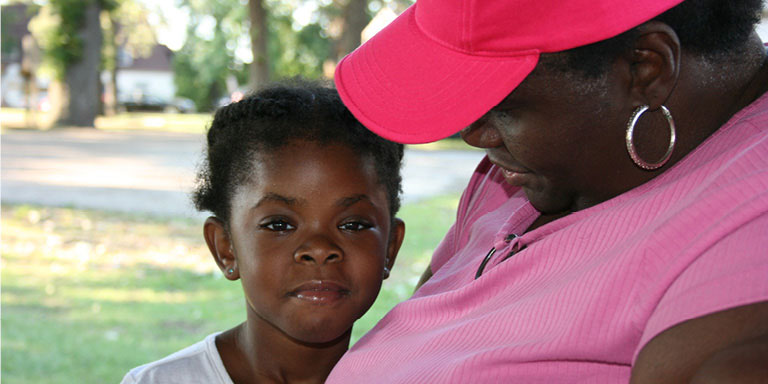 The Handy Family has served as a safe haven, welcoming many foster children into their home for over 20 years!
'Family' can include the people you choose to be a part of your life. It doesn't necessarily have to be a blood relative. Foster parents come from all walks of life: single or married, renting or owning a home, working full or part-time. The most important requirement is that you have space in your heart and your home and can commit to a youth in need. Foster parents are never in this alone, as Allendale is right there beside you offering guidance and support whenever it is needed, every step of the way.
"Allendale has been a very supportive agency! Our caseworker was extremely supportive and helpful. I reached out to her frequently, outside of scheduled meetings, and she was always available with great ideas and suggestions." – Carolyn, current Allendale Foster Parent
We understand the value of learning from each other's experiences and creating a safe space for sharing.
"Allendale offers valuable, monthly trainings that are not only informative but give foster parents time to interact and create [a sense of] community. If you are looking to become a foster parent and want to be a valued member of the team, I highly recommend you choose Allendale." – S.B., current Allendale Foster Parent
Youth right here in Lake County need your help! If you've been thinking about becoming a foster parent, call us today to find out how we can help get the process started and answer any questions you have. This time of giving and gathering is your chance to give the gift of hope to a child or adolescent who desperately needs it.
Reach out to our Foster Care Team at 847-356-3322 or via email at FosterCare@allendale4kids.org to learn more today!
A tradition of care and service.
For 125 years, Allendale, a private, not-for-profit organization, has led youth with serious emotional, mental, and behavioral health challenges and their families on a journey toward resiliency.
At Allendale, our aim is to offer every chance for healing and growth – through myriad programs and services and a continuum of care including 24/7 therapeutic residential treatment, therapeutic day school programs, outpatient counseling services, foster care and community support services. Allendale is a place where kids and families have the opportunity to restore their lives and discover a better future.